Radio Wave Propagation Analysis Software Wireless InSite Implementation
NTT Communications Corporation
NTT Communications Corporation
Innovative Architecture Center
(from left) Mr. Kenji Higashi, Mr. Yasuo Mizutori, Mr. Toshinari Umechi、and Mr. Masatoshi Watanabe
"Wireless InSite is compatible with any communication system. It's the perfect simulation software for our company, which continues to offer more and more new services."

At NTT Communications Corp, which offers one new service after another in the wireless communications industry, employees work with visualizations of radio waves in order to deliver high quality in the unstable field of wireless communication. We asked the members why they chose Wireless InSite as their simulation software.
1. Operations of Innovative Architecture Center: The Difficulty of Crowded Wavebands
― Please tell us about NTT Communications Corp. and the cutting-edge Innovative Architecture Center business.
At NTT Communications, we have made it our mission to contribute to the use of information and communications technology (ICT) to make a rich society and a safe and pleasant lifestyle a reality. With our motto "Global ICT Partner", we offer an innovative, highly reliable, and seamless ICT service both inside and outside Japan.
For individuals, we provide the Internet connection service offered by OCN, content services, and long-distance phone services and we have also recently begun to create smartphone applications. For corporations, in addition to long-distance phone service, we also offer internet connection services packaged with security services, as well as cloud-based services and data center providing services.
At our Innovative Architecture Center, which functions as a development center, we have developed a system based on three keywords: "innovation" (the development of new technology), "incubation" (support in bringing the new technology we develop to market), and "education" (the development of personnel within the company who can create new technologies). Our primary targets for development are within NTT Communications, but we also make proposals to the larger NTT group.
The center is organized into units, and the mission statement of our own unit is "to provide technology that enables the efficient use of local wireless communication." We use wireless devices every day without a second thought, but radio wave propagation is actually extremely unstable. There can be times when it might not connect, it might connect but the sound is strange. Therefore, we're pursuing ways to provide our services that are "high quality," "high functioning," and "can connect anywhere." Especially since the number of smartphones has shot up rapidly in recent years, we are developing within the company way to deliver high quality under the unstable wireless communication environment.
Our company is a MVNO carrier (*1). Previously, almost all communication was conducted over wire, but we communicate over wireless devices nowadays. Individuals are less concerned even if they can't connect underground, but as business use expands, failures to connect pose a big problem. In addition, in the past year or two, the spread of mobile devices has led to radio wave congestion, and high-quality communication is becoming more and more difficult to attain.
Furthermore, communication not just between humans but also between devices (*2) has recently increased. Sensor information and electricity & gas meters are also being converted to use radio-wave communication. We have also become more and more occupied with requests to examine use of new wavebands.
※1 Mobile Virtual Network Operators are carriers who do not own physical mobile networks for cell phones or PHS, but borrow them from other carriers to provide their own brand of communication service.
※2 Communication between devices: Meaning the IoT (Internet of Things), where the communication devices in objects transmit and receive data to and from each other directly through M2M (Machine to Machine) communication.
2. Usage of Wireless InSite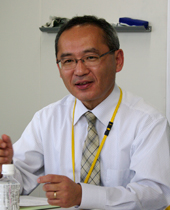 Mr. Yasuo Mizutori:
"We strive to provide
high-quality service to
our customers through
our R&D."
― How do you use Wireless InSite?
We use it in three major areas.
1. Research study of radio propagation over a given area: When undertaking research projects, we conduct simulations with Wireless InSite beforehand to see how far the waves will reach within the area, so we have a rough estimate of how far to measure. Also, when one of our customers is organizing a wireless communication network, we use Wireless InSite to help determine the optimum allocation of equipment and resources.
2.Testing system performance in new service installations: Usually, the brochure of telecommunication & transmission equipment specifies how they will perform in an unobstructed environment. In the field however, the environment is often complicated by buildings and valleys, thus you don't get the level of performance as detailed in the brochure. In these cases, we conduct simulations to determine the coverage area. Ultimately, we will check the actual radio wave propagation, but estimating how far we should conduct the measurement beforehand is very important in regards to operational efficiency. Also, we use Wireless InSite to conduct simulations on whether radio waves for the recently introduced "internet of things" have sufficient range.
3.Technical training for company staff: Educating our staff about technology is important for providing technical support. At our firm, we hold seminars consecutively for 10 days per unit for staff who've been working for several years. In our courses, we teach the technological background for wireless communication, communication laws, and the applications of this form of communication. We make sure that their knowledge doesn't stop at the basics, and would utilize Wireless InSite to help them gain a quantitative understanding of the field and be able to envision wave behavior as communication service professionals.
― What about the differences between simulations and reality?
There are differences, of course. However, no matter how accurate we simulate, we find that every simulation is going to diverge from reality to some degree. The transmission paths of radio waves always change in response to various conditions. Since wireless devices are always on the move within recent wireless communication, there are striking changes in wave propagation.
It's true that simulations are theoretical, based on systematic calculations, so we use them first as an index and we afterward adjust our approach to the project based on the incremental differences between the surveyed data and the simulation. No matter how precisely we define our parameters, it's inevitable that differences will arise between the simulation and the actual values; we find that it's not a reflection on the accuracy of the software.
3. The Reason We Chose Wireless InSite : the Value of a Software Package that Supports Every Communication System
― How did you learn about Wireless InSite?
Actually, we learned about Wireless InSite several years ago when we were still in Operations department.. One of the staff from Kozo Keikaku Engineering ( KKE) introduced the software to us. We couldn't actually purchase it then, but KKE staff would visit on a regular basis and also invited us to their company event; KKE Vision (*3). KKE Vision is held with a strong central theme every year, and even in the fields with which we were involved, this was an excellent opportunity to get a sense of technological trends, of new research, and of projects involving communication from other fields.
※3 KKE Vision: A private event held by KKE, which offers engineering technology for a wide variety of fields with the goal of bridging the gap between industry & science. More than 1500 participants attend the event to hear the presentations that will be made by renowned professors and specialists. At this annual event, both customers and those in the field of science alike, come together in the spirit of cultural exchange to share recent research results, introduce examples of technological solutions, and more.
>>More about KKE Vision
In 2011, we transferred to our current research center that overlooks our entire company. From the discussions we had within our firm and the trend of wireless communication today, we found problem points and issues necessary to address. We wondered if there were any good software packages that could meet our needs, and so we started our search.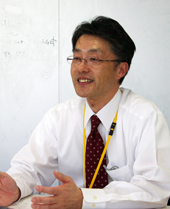 Mr. Masatoshi Watanabe:
"We liked how Wireless
InSite can be adapted to
any communication system."
― Tell us how you came to choose Wireless InSite.
We decided to select the software based on two points, its speed of calculation and its ability to support any communication system.
If you're dealing with wireless LANs only, there are a variety of products that can suit your needs. However, we needed software that would allow us to take a look at wave propagation regardless of system or frequency band, which made Wireless InSite a strong contender.
At KKE, they offer a wide variety of network and wave propagation solutions other than Wireless InSite. Therefore, we carefully considered the explanations given of each and tried out the demonstration versions before purchase. The other software was designed for wide outdoor areas or for exacting research calculations, so we discounted those.
In our business, we encounter a lot of cases where we question, "How can we get the quality we want, and under what kind of conditions will that be?". So it is necessary to run simulations repeatedly and constantly change the parameters. Therefore, we placed a great emphasis on obtaining software that could offer quick results in a short period of time, rather than a package that offered extremely precise results but took a long time to calculate. In addition, mobile devices are used while on the go, and under different conditions each time. Thus, we need to obtain a benchmark for our measurements with as little processing as possible, rather than painstakingly grinding out the parameters and calculations of every scenario. Therefore, we chose Wireless InSite.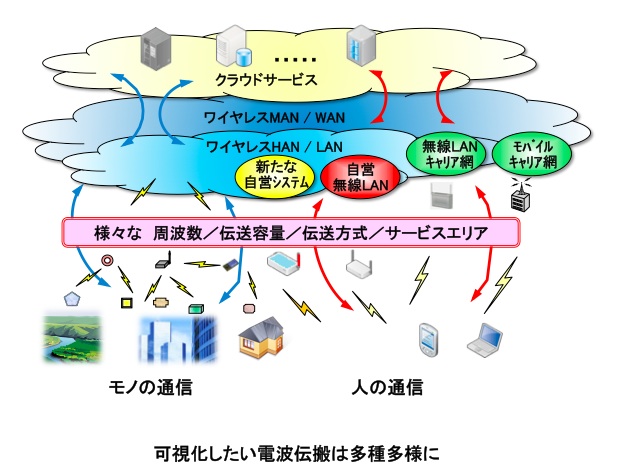 Various types of radio wave propagation
4. The value of Wireless InSite: Visuals of Simulation Results Increase the Quality of your Reports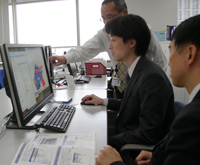 Instructions on how to use
the system along with looking
at the manual
― After using it for a year, how would you describe the value of the program?
When we use the results from Wireless InSite in our reports, we're really thrilled with how we can make documents that can be understood at a glance. When we show them to other staff members, they light up and say, "Ohhh!" We, ourselves, understand how the waves act, but it's reassuring to be able to explain the behavior of the waves to others using visuals.
Also, it's a simulator that can be used to any communication system and produce good results. We are able to use Wireless InSite to study wavebands we hadn't previously handled.
The quick processing speed, ease of use, easy integration of results into reports, and the low cost for the functionality you get make Wireless InSite extremely good value for us. Also, while it can handle routine calculations, the software can also process complex calculations if necessary, so there are many more scenarios in which we can use the software in the future.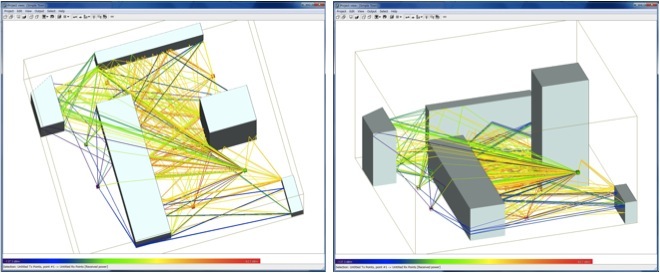 Radio wave propagation within a group of buildings calculated using Wireless InSite.
The visual illustrates how the waves are reflected off the structures. The color indicates the field intensity.
5. A New Usage of Wireless InSite: Watching over Children and the Elderly at an Affordable Cost
―  What new uses are you investigating for the future?
We'll use communication between household devices here as an example. At our firm, we're currently studying ways to use Wireless InSite to watch over children and the elderly--a service that would allow you to know easily where they are currently, if they are safe, etc. Even now, there are similar services provided using cell phone GPS or 2.4 GHz-band wireless systems, but with cell phones, the cost is prohibitive. Also, 2.4 GHz can't cover a wide area and there are plenty of areas where it can't reach, which create a bottleneck. To resolve these issues, we've been in the process of conducting simulations using topographic and building data in order to create a service that uses the 920 MHz waveband that was made available last year.
There are many methods available to communicate. For example, if you're moving from Tokyo to Kyushu, you can take the bullet train, you can take an airplane or truck, or you can use your own car. You try to make your choices based on how well they fulfill your needs. For wireless communication, it's the same scenario --the right method for the right job. It's our job to find the communication method that's most appropriate for each scenario, and offer efficient, high-quality service.
6. Evaluation of KKE and Future Expectations
― Please tell us your impression of KKE.
We get the impression that KKE offers strong technological support. We took a training session when we first started to use Wireless InSite. When we asked the staff several specialized questions, we received precise answers. The KKE staff holds doctorate and have a deep understanding of technology; we have profound confidence in them.
We believe that Wireless InSite will also be useful for analyzing the products for 920 MHz sensors that we predict will just get bigger and bigger. We'd like to use Wireless InSite for even more complex projects, so we look forward to working with KKE continuously.
Interview date: March, 2013
______________________________________________________________________________________________
about NTT Communications Corporation
Since July, 1999
in Chiyoda-ku, Tokyo
website http://www.ntt.com/
Marketing Strategy & Overseas Dept.
TEL : +81-(0)3-5318-3091
E-Mail: i-marketing@kke.co.jp
The solution introduced in this customer story