Nichiban Runs ADAP! ~Application of Supply Chain APS System~
NICHIBAN Co., Ltd.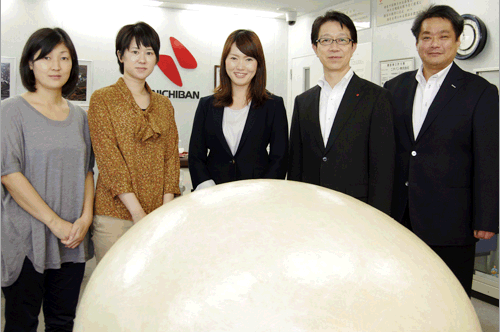 (From the left) Ms. Mina Tomita, Ms. Yuko Kudo, Ms. Yuki Konishi,
Mr. Tatsuya Suzuki (Director), and Mr. Shuntaro Taguchi (Senior Manager)
Business Management Division
Nichiban Co., Ltd.
"Our goal is to have staff members at production sites participate voluntarily in production planning and to create a production management scheme that prevents stockout even after reducing the number of stock. Introducing ADAP led to innovation in the corporate climate across the board, not just in the production team."

Nichiban Co., Ltd., widely known as the manufacturer of the well-known "CELLOTAPE™" adhesive tape, introduced ADAP as a production management system to three factories in Japan. We interviewed teams in the Business Management Division (HQ) and the Saitama Factory about the reason for selecting ADAP, the challenges during its implementation, and the changes they went through after deployment of ADAP.

*Photo with "Cerotama.3" in front, an artwork made of cellophane tape by Mr. Ryo Sehata
PDF Download (Digest Version) 
 [480 KB]
1. About Nichiban
― Please introduce your company, Nichiban Co., Ltd.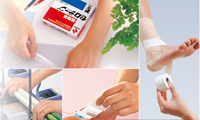 Products based on Nichiban's
unique adhesives and adhesion
technologies
Nichiban Co., Ltd., offers a variety of useful products for medical and health care based on our unique adhesives and adhesion technologies, with office, home, and industrial uses.
"CELLOTAPE™", one of our flagship products, is an adhesive tape made from natural materials that is eco-friendly, as it returns to nature. The company is also actively engaged in creating environmentally friendly products as well as a greener production process, and with striving to become a corporate that is contributing to the protection of the nature.
We will be celebrating our 100th year in business in 2018. Under the title "NB100", we have been promoting a mid-to-long term business strategy that focuses on corporate quality enhancement, infrastructural efficiency and stability enhancement, and the search for progress since 2011.
2. Background of ADAP introduction ~Efficient Production and Stock Reduction without Stockout
― Is the implementation of this production management system a part of the NB100 activities?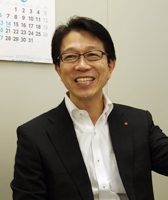 The scope of the reform
included even our main system.
Mr. Tatsuya Suzuki
Director and Operating Officer
Business Management Division
The project to build a new production management system was launched slightly before the NB100. In order to solve issues our three domestic factories (Saitama, Anjo, and Osaka) had been experiencing, a system reform, including work process, was required, so we started a project that aimed at achieving efficient production and stock reduction without causing stockout.
The project was launched with an investigative phase in 2008 and we decided to introduce ADAP as the production management system in the spring of 2010. Being the closest factory to HQ, we decided to implement it in the Saitama factory first, the Anjo factory next, and then in the Osaka factory.
On March 11, 2011, the very first day of implementation in the Saitama factory, the East Japan Earthquake Disaster occurred, and the employees at the factory were preoccupied with recovery and production work due to the damage caused by the earthquake. The project was delayed, and it wasn't put into stable operation until the summer of 2012. Currently, all inventories are well controlled and we are able to reduce a considerable amount of inventory for raw materials and intermediate products.
Now we are going to work on reducing the amount of stock of finished products. In fact, we are able to perceive how much stock we have and examine whether the volume is appropriate and riskless or a glut. The main result is that all the employees at the production site are now able to perceive the stock status, and moreover, they all pay attention to it and think and act on their own.
3. Challenges for production management before ADAP adoption ~Much depends on individual skills
― Could you tell us a little more about the challenges you had before adopting ADAP?
The production management system was introduced and used in each factory, but the planning management capability was not really utilized, and the master data was not updated in real time. How was production planning operated? It was all done by the staff members in the admin group, who took over the excel files for production planning from another who was in charge before, and edited it as they liked. At the end of the day, the excel files were so individualized that other members could not understand them.
On the other hand, we had a consultant teach us JIT, the Just-In-Time system for optimizing component purchase scheduling, but it didn't work properly in our company, probably due to the wide gap between sales results and forecasts for each item. We were in the middle of trial and error, trying to work it out somehow by forecasting the sales volume while taking into consideration sales variabilities to create some kind of linkage to production management.
As one of the trials, we substantially reformed the production request system that we developed in-house in order to calculate the monthly production volume that would meet the forecast maximum sales volume. However, the production sites were not willing to use the system, with such excuses as "It is hard to decide a production schedule in advance" and "Even if we decide the master production plan, it is even more difficult to plan the schedule for raw materials' purchase and for interim products production that meets the master plan."
On top of that, we needed to consider the appropriate volume of make-to-stock products in order to cover seasonal demand fluctuations.
【Issues Nichiban had faced】
They wanted to use a sales prediction system, but the existing MRP for production management was only good for calculating sales prediction for a single month. Therefore comprehensive production management was impossible, because the existing systems were not capable of handling the material purchase or work-in-process production schedule over months.
Planning required enormous numbers of man-hours, not being able to correspond to changing demands.
A sudden change in a production plan due to stockout caused huge troubles, requiring a change in facility scheduling as well as purchase schedules of raw materials and interim products' production schedules.
Handing over production scheduling from one staff to another was getting more and more difficult at the time of retirement and/or transfer.
*Master data
Most of the infrastructural information systems implemented in companies are structured based on master data, such as product master data, component master data, and partner master data, which stores information on clients and suppliers. All of these are very important foundations in terms of corporate information management and utilization.
4. The only solution that could realize ideal production scheduling and management was ADAP.
― How did you come to choose ADAP?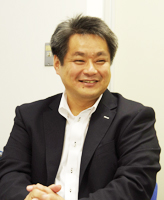 "The Tetris-like presentation
was very unique and impressive."
Mr. Shuntaro Taguchi
Senior Manager
Business Management Division
In order to solve these challenges, we looked into production management methods and systems. While doing this research, we came across the concept of APS (* Advanced Planning and Scheduling), and started to evaluate the adoption of APS into our production flow.
We first encountered ADAP at the Factory & Production Status Visualization Expo. We were in the middle of a detailed survey of APS-based scheduling systems, and attended some introductory seminars. Compared with the other APS-based package software, we felt more comfortable with ADAP for its concept of flexibility in scheduling, which allows us to plan by the day and allows the production site to decide plans for smaller units and detailed priorities, where other systems require precise scheduling by the minute.
As we studied more APS-based scheduling systems, we realized that our biggest challenge, to be able to consolidate production plans based on sales forecasts before stock-out, was surprisingly hard to overcome. This was because most APS software is designed to fit to a given delivery date. It works like this: A superior system, such as a production management system, generates a basic production schedule and then passes it to the APS so that the APS will generate a daily plan based on the workload.
This doesn't work under our ideal scheme. We patiently explained to the system providers that we do not have given production volumes for make-to-stock products, and that we need functionality to automatically calculate the production volumes from the current stock volume and sales forecast. As a result, ADAP was the only system that realized the very capability we wanted, to generate production volumes based on monthly sales forecasts.
The other advantage ADAP has is that its logic is so handy that it can automatically calculate make-to-stock production for busy seasons without any fuss. Because we have a few thousand products, other systems were able to generate plans for three months or so, whereas ADAP can handle 18 months or more without any problems. This is why we decided to adopt ADAP.
Aside from the aforementioned advantages, however, there was another factor that we felt was indispensable when choosing the software. That is, the trust and partnership we felt with KKE. Working together with us, KKE would dig into our needs and provide any help to build an ideal production management system that was both necessary and sufficient. It was much better for us than being offered customization with a gigantic, ready-made production management system.
【The Ideal System for Nichiban】
By referring to sales forecasts and sales budgets, the system needed to automatically detect days likely to have a stock-out, and generate daily production plans that would provide appropriate production volume with regards to sales forecasts and manufacturing loads.
The system must automatically adjust the purchase of raw materials and the interim product production plan so that overall production meets the master plan.
The system must be able to also handle mid-to-long term scheduling in order to plan make-to-stock products for busy seasons, and to relate the connections between the purchase schedules of materials with a long lead-time and sales forecasts.
* APS (Advanced Planning and Scheduling)
A manufacturing management approach that plans production schedules and provides Available to Promise by referring to BOM and workflow. At the same time, it creates the schedules for equipment and for the purchase of materials.
5. The ADAP implementation launch ~ Under production management by the production site
― How did the implementation proceed?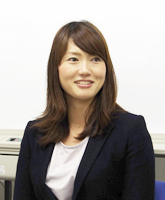 "I used to go to the factory
by myself."
Ms. Yuki Konishi
Business Management Division
As we gained official approval from the management board for a reform project for production management in 2010, we established a Production Management Reformation Working Team that includes Mr. Taguchi and Ms. Konishi from HQ, and three employees from each factory in each of the three locations. As we gathered for meetings and discussed details, several members questioned the necessity for the reform, so we shared the challenges and goals of this reform.
The kick-off meeting for ADAP implementation was held on March 11, 2011. It was the very same day of the Great East Japan Earthquake, and I recall very clearly that we felt a huge shaking while we were showing the inside of the factory to the project members from Kozo Keikaku Engineering, and ended up in a queue for evacuation.
The impact of the earthquake was major, causing scheduled blackouts and delays in material purchase. Factory operation was greatly influenced until August. During that time, just the project members from HQ would work on the reform, creating master data and visiting factories to ask detailed questions directly to those in charge of production scheduling.
It was only half a year after the launch of implementation at the Saitama factory that the factories were back to normal operation and the project members from the factories were able to spend time on the reform. We built the master data together, but it was a series of trial and error. Sometimes the presumably useful settings yielded poor results and we had to change the settings. After repeating such efforts, we assembled master data that could be used in the summer of 2012.
― Could you share with us which process was most difficult during the reform?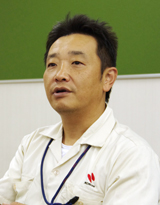 "The benefit we receive
from ADAP is equal to the
amount we struggled."
Mr. Tadayuki Komine
Manager, Saitama Factory
Under the factory motto, "Think and act spontaneously", we tried out various reforms in the Saitama factory, and one such trial was to make production schedules by ourselves instead of leaving it to HQ. That is part of the reason why we, the production site, were able to take the lead in ADAP implementation. The tasks that we felt were most difficult were setting up the master data and squeezing out time for the project members to spend on the reform project.
We all knew that knowledge and wisdom about the production site was required to establish a precise system, so the most important factor was how to reflect the knowhow of the members during the production of the master data.
The previous system was not updated frequently, and did not have data on the actual manufacturing capacity. In order to prepare an easy-to-use and easy-to-maintain environment for ADAP, we needed to work very hard to fit the initial data with the measured values. I mean, it's been a real struggle for us.
Project members from the factories had to work on regular tasks, and in addition to that, spare time for the reform project. We tried to find spare time for the members between regular operations. It wasn't easy to build master data and specify the system settings during such limited hours. We tried to support them by keeping their motivation up somehow, and help them enjoy the reform project.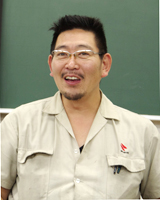 "It was really tough checking
and revising the master data."
Mr. Makoto Kakinuma
Manufacturing Section 3,
Saitama Factory
At first, we received complaints such as "ADAP is hard to use" and "It doesn't work properly", which made total sense, because ADAP produces plans and adjustments based on master data, which at that time had discrepancies with reality. Then we realized we were the ones who had assembled the wrong master data, and that we were the only ones who could make ADAP work efficiently. After recognizing this, we started to succeed in the reform project.
― Approximately when did you realize the cause of the malfunction, and how?
It was about half a year after ADAP was introduced to our work that we started to doubt our handling of it. Having so many manufacturing items, which resulted in an enormous volume of master data, we were preoccupied and sometimes irritated, asking ourselves, "What do we need to do to run the system properly?" and "What should we do?"
As we began to check the malfunctions one by one, trying to solve their fundamental causes, we found out that it was because of the master data we had specified ourselves. I felt as if ADAP saw through all, and at the same time, I realized that ADAP was much more reliable than we had thought, and I was determined to leverage it.
6. Benefits of ADAP ~Visibility throughout the production site and the ripple effect on the other teams
― Can you tell us the benefits brought by ADAP implementation?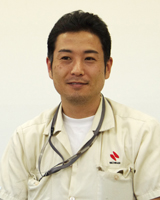 "I was skeptical at first
as to whether a factory
worker like me could really
be a core member of the
reform project."
Mr. Koji Takahashi
Manufacturing Section 1,
Saitama Factory
1.Change of Mind: Inducing reform led by the changing minds at the production site
ADAP is a system that represents the connections of the whole supply chain. Not only are we able to understand the manufacturing process of the ones in charge, but also the relationship between the previous and following manufacturing processes is visible. The workers used to just follow the production schedule, but now they know which production is for which customer order, and are thinking of the larger picture.
We achieved significant results in terms of preventing stockout. Our salesmen get orders from customers regardless of the production schedule. Production, however, is based on a certain sales forecast, so when actual sales exceeds way the sales forecast significantly, then the product becomes out of stock. Since ADAP enhanced the visibility of the whole supply chain, the employees at the factory were more interested in knowing the sales forecast in real time, and now they are following the sales figures more closely.
2.Improved corporate climate
These days, the workers at the factory send many proposals and improvement ideas, which encourages a corporate climate that is open to change. The transparency of the whole supply chain has changed the minds of the factory workers, and now they are conscious about sales figures, not only production figures. For example, if sales are increasing, they will ask HQ, "Is this increase in sales typical or untypical?"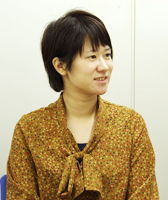 "Now we are implementing
ADAP in the Anjo factory."
Ms. Yuko Kudo
Business Management Division
On the other hand, when sales do not go as predicted in the production schedule, they contact HQ, saying, "Give us a detailed sales forecast. If we're likely to have stock, we prefer to work on other products". The production site is more committed to efficiency, and is willing to share information. Thanks to ADAP, the understanding between HQ and the factory is deeper and our long-overdue reform of production management is paying off.
Although we at HQ explained the benefits of small lot production, the employees at the production sites did not fully understand them before. However, after we introduced ADAP and had them run it, they realized, "If we manufacture this product this much during this period, we won't be able to produce ones that are really necessary" or "Right, what HQ was saying about small lot production was true." Thanks to the production site, we can obtain the figure for a production volume that is achievable without stockout, and in return, we can control the production volume by giving feedback from corporate management point of view, saying, "Please run the production and have more stock of such product".
By experiencing this change, you begin to come up with new ideas. When we collected opinions from the factory workers, they implied that they had begun to think about quality in addition to production management.
This is because they feel more responsible for the production process that they're in charge of. There used to be less communication between one production process and another, but now they're linked together and interact more frequently.
7. Further Expectations ~ A system that realizes the process the company wants
― What would be the plan for the future?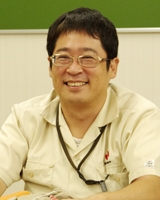 "Implement it and leave
it to them. It'll change the
production site."
Mr. Masashi Tanaka
Plant Manager,
Saitama Factory
As we have used the system, we have begun to accumulate related data and there are many things that have become obvious. As for the next step, we would like to visualize costs. For example, how will cost be impacted by improvement A, or what kind of impact to cost would improvement B have?
We had ADAP customized so that it would automatically calculate the direct cost, and we would like to conduct various simulations in the future, like handling indirect cost, for example. We also plan to link ADAP to logistics.
― What was the key success factor, do you think?
It's the leadership, I think. The person who suggested the reform at first kept fighting for it for five years, and took action.
Also, the teams at the factory had tried many solutions, which created the foundation for reform. Prior to ADAP implementation, we promoted 5S activities, a Just-In-Time system, and visualization for enhancing production management capabilities, and did become aware of the issues and challenges we had at the production site.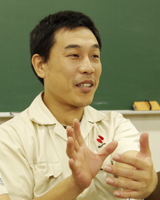 "I'm going to spend the
spare time gained through
ADAP utilization on machine
maintenance and coaching
other members."
Mr. Nobuyuki Sekine
Manufacturing Section 2
It was a turning point of the policy. We had several policies, such as, "The production must be production-site-oriented", "We, the workers at the production site, must take the lead in manufacturing" and "Manufacturing, and caring for customers", and did not know what to do. It was as just such time that we decided to implement ADAP.
ADAP vastly enhanced visualization, the causal relations became obvious, and the production process became easier to comprehend.
The implementation felt burdensome at first, to be honest.
Even assigned under a corporate policy, we wouldn't be able to succeed like this if we didn't trust each other. The major factor would be the trustworthy relationship between HQ, as a promoter, and the factory.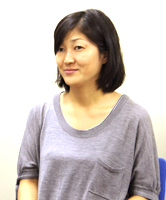 Ms. Mina Tomita
Business Management Division
After introducing ADAP at the factory, there were members who tried very hard to make it useful in their work, and it was their eagerness that moved the others. Half of the factory staff still do not fully understand ADAP, so the challenge we are facing now is how to expand the user base.
At our company, we do not regard ADAP as a tool that supports a specific task, but think of it as a system that realizes the process the company pursues. The system itself is growing together with the company.
After achieving one goal, another one comes into the sight. Probably ADAP will continuously grow, following the goals at that time, even four or five years later. As one such goal, we are currently promoting ADAP implementation in our group companies starting with logistics as one ongoing target. Four or five years will pass in the blink of an eye. We hope to work with Kozo Keikaku Engineering continuously.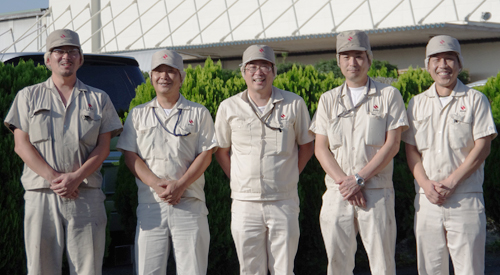 (from the left) Mr. Makoto Kakinuma, Mr. Tadayuki Komine (Submanager),
Mr. Masashi Tanaka (Plant Manager), Mr. Koji Takahashi, and Mr. Nobuyuki Sekine

Interviewed in September 2013
______________________________________________________________________________________________
Nichiban Co., Ltd.
Founded in January 1918
Headquarters: 2-3-3, Sekiguchi, Bunkyo-ku, Tokyo 112-8663 Japan
website:http://www.nichiban.co.jp
______________________________________________________________________________________________
The solution introduced in this customer story