Radio Propagation Analysis Software RapLab
Panasonic Corporation Analysis Center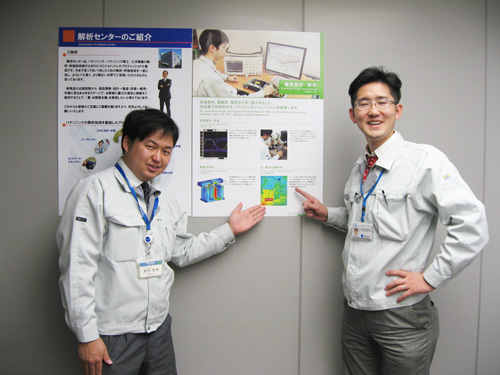 Panasonic Corporation Analysis Center
(from left) Mr. Hiroyuki Okumura and Mr. Tomohiko Morita
"'RapLab' enables us to analyze indoor and outdoor radio wave intensity, visualize wireless environments such as smart houses, and design a stable wireless environment."

Panasonic Corporation Analysis Center started as a collective of analysts and assessment engineers from Panasonic Corporation, Panasonic Electric Works, and Sanyo Electric Co., Ltd. The center provides analysis solutions for a wide variety of fields, and in order to assess propagation performance of wireless device communication in indoor environments, it introduced Kozo Keikaku Engineering Inc.'s radio propagation analysis software, RapLab, in 2011. We interviewed the members at the center about the process of introducing RapLab and their impressions having used it for a few years.

1. "One for All, All for One": the Integration of Three Companies' Analysis Technologies
― Please tell us about the work at the Analysis Center.
The Panasonic Corporation Analysis Center is a professional association which consists of analysts and assessment engineers from Panasonic Corporation, Panasonic Electric Works, and Sanyo Electric Co., Ltd. The analysis technologies that have been cultivated at each of these three companies are brought together to achieve synergy with the spirit of "One for All, All for One". We operate to contribute to higher-level product development from many different perspectives and fields through internal and external development in the following 9 fields.
1.EMC Design and Assessment
6.Safety Assessment
2.Electrical Design and Analysis
7.Instrument Calibration
3.Reliability Assessment
8.Network Security
4.Material Analysis
9.Usability
5.Strength Assessment
Our technology can be adapted to various stages, from electrical, mechanical, and chemical to human engineering.
The Analysis Center has a slogan, "Diverse Solutions for Your Success!!"
Based on this slogan, we value dialogues with our customers, work in teams with engineers from different fields, and achieve our motto of providing speedy, high-quality, and reasonably priced service.
2. Reason for Selecting RapLab: Appreciating the Analysis with Ray Tracing, Capability of Analyzing Wide Scope
― How did you learn about RapLab?
We first learned about Kozo Keikaku Engineering and RapLab at an exhibition of mechatronics and electronics technologies held in April 2009 (TECHNO-FRONTEIR 2009). In March of 2011, our company was planning on the theme to analyze radio wave environments in homes, and we started the selection process for radio wave analysis software that could perform analysis on a relatively large-scale. At that time, we were considering two possible methods, electromagnetic field analysis and radio propagation analysis.
To design wireless communication, it was necessary to find software that analyzes radio wave intensity on a large scale. Electromagnetic field analysis could give out detailed analysis results however, there was high risk that the time it takes to calculate might limit the scale of analysis. We realized that radio propagation analysis, especially with the ray tracing method (*1), could meet our needs, and then came up with RapLab.
By 2011 April, we contacted Kozo Keikaku Engineering, and they immediately visited us to explain RapLab and give us a demonstration. After some internal discussion, we selected RapLab with the ray tracing method as our first trial.
In May, we started a free trial of RapLab and also had Kozo Keikaku Engineering come give individual lectures on its usage. When we felt confident with how to utilize the software, we decided on the purchase. Orders were made within June, and we started to use RapLab in our actual practice.
*1 Ray Tracing
In the ray tracing method, radio waves emitted from transmitter are treated as rays, and are geometrically traced how they would interact (reflection, transmission and diffraction) with the surroundings before arriving at the receiver.
― What were the keys for choosing RapLab?
It satisfied our crucial condition, to perform analysis with ray tracing (and analyze radio propagation on a large scale). In addition, it is attractive that RapLab is able to reflect original assessment data such as antenna characteristics, materials characteristics (angle data), and more.
Not only the features of RapLab itself, but the supports were satisfying as well. Since RapLab is a product developed by Kozo Keikaku Engineering, they could respond quickly to our questions. Furthermore, the price was reasonable, which was another reason that led us to purchase.
3. Assessing Indoor and Outdoor Wireless Environments with RapLab
― Please tell us about how you use RapLab.
Mainly we use it to assess the radio propagation of wireless device communication in indoor environments, such as in homes and offices. To be more specific, we assess how far radio waves propagate by different frequencies and how the waves are affected in environments with or without radio wave absorbers or reflective objects. The diagram below shows some samples of radio propagation analysis results from an indoor environment by frequency difference. RapLab visualizes how propagation differs by frequency, which makes it very appealing for our customers.

Diagram Source: Panasonic Corporation Webpage
http://www2.panasonic.co.jp/aec/electric/electromagnetic-waves.html
4. Benefits of RapLab: Reflecting Original Assessment Data, Fast and Courteous Support
― Having used RapLab for about 2 years, what is your opinion of the software?
We are satisfied with the wide range of radio wave analysis that RapLab can handle at a practical level. As we mentioned earlier, its analysis is very useful since original assessment data can be reflected, such as data of antenna characteristics, materials characteristics (angle data). Using the software is simple and easy to understand, plus the user interface is great.
Another point we mentioned earlier, since RapLab is developed by Kozo Keikaku Engineering the response is fast, from bug report to solution consulting. The support is fast and courteous, and we are fully satisfied.
We were a little dissatisfied that it took more time than we had imagined to perform calculations, but RapLab performs calculations through an imaging method (*2) so we noticed there wasn't much to be done. That said, with the version update, the speed has improved greatly.
*2 Imaging Method
A method where the reflections of transmission & reception points, and all reflective surfaces are combinedly used to calculate interactions (reflection, transmission and diffraction) and trace ray propagation path.
5. Future Expectations: New Utilities of RapLab
― Finally, what are your challenges for the future?
While devices capable of wireless transmission are increasing, a variety of new energy saving building materials (walls, floors, windows) are being developed, and wireless environments are becoming more and more complex. As we at Panasonic produce a wide variety of products, including wireless devices and building materials, we will continuously use RapLab to develop detailed models of new materials so to perform more rigorous simulations.
Aside from RapLab, we currently use electromagnetic field analysis software as well. We are considering coupled analysis (*3) by adapting the antenna information collected with electromagnetic field analysis directly to radio propagation analysis.
We will keep supporting the proactive development of products for a convenient and enriched lifestyle for our customers.
*3 Coupled Analysis
It is a method to combine separate physical phenomena expressed in different equations to solve issues. Here it means to conduct assessment by combining both analysis results: the antenna surrounding analyzed with electromagnetic field analysis, and other environment analyzed with radio propagation analysis.

Interview date: May 2013
______________________________________________________________________________________________
about Panasonic Corporation Analysis Center
2005 Founded
in Kadoma-city, Osaka Prefecture
website:http://www2.panasonic.co.jp/aec/

more on Panasonic Corporation Analysis Center:http://www2.panasonic.co.jp/aec/blog/
Marketing Strategy & Overseas Dept.
TEL : +81-(0)3-5318-3091
E-Mail: i-marketing@kke.co.jp
The solution introduced in this customer story
Related Contents
KKE WAY Story 01 For the "better future" of the uses of radio waves